Calling all ARTivists!
Calling all ARTivists. A competition to subvert Drax Group plc.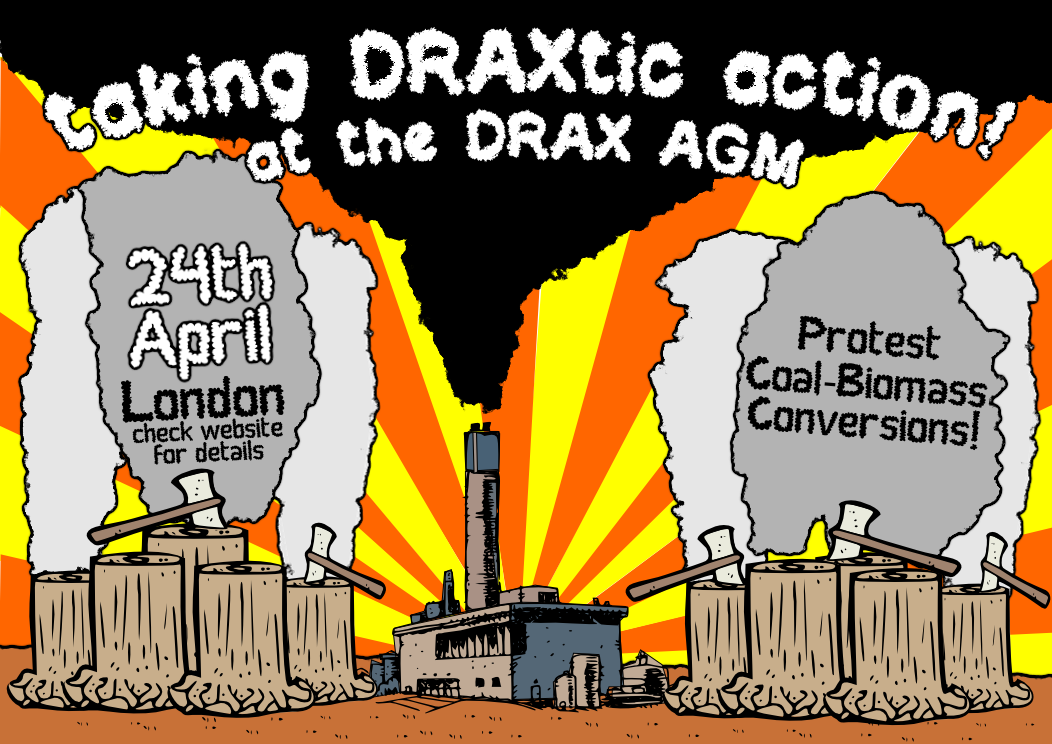 Biggest CO2 point emitter in the UK is planning to convert to burn a large proportion of biomass alongside coal – 16m tonnes, more than 1.5 times the total UK wood output! This is claimed to be green but this is a fraud. There is plenty of evidence that burning wood emits about 50% more CO2 than burning coal – so this development, which has attracted £100m funding from the government's Green Investment Bank, will actually speed up climate change whilst destroying biodiverse, oldgrowth forests in the US and Canada. Diversifying from coal also enables them to keep old inefficient plant working in the face of stringent EU pollution legislation. The primary energy of only 1 in 6 trees is actually turned into electricity. The rest is wasted!
We invite you to mess around with Drax Group plc's corporate images, images of the powerstation (these are many and moody) to make the association with the environmental crimes they are committing in the name of keeping too many lights on.
We want to make investing in Biofuels and Biomass embarrassing. We want to make Drax Group plc a laughing stock. We want our message about what they are doing to come out of search engines ahead of theirs. We want wit to win the argument. We want sticky images to campaign with.
Biofuelwatch is targetting the Drax Group plc AGM on 24 April. Links to the call to action are here: http://www.biofuelwatch.org.uk/
Please submit your subversions, (which can be logos, images, comic strip, film or anything else you think does the job and we can post online) to biofuelwatch@ymail.com with the subject line Drax subversion. Deadline for submissions Wednesday 10 April
There is NO PRIZE other than our gratitude and the warm feeling of having perhaps helped a tiny organisation to fight a worthy cause and raise awareness.
We undertake to post the images on a gallery on or connected to the biofuelwatch website and to publicise them widely to national media. We will use subversions we like best to further our campaign. We may print them in which case no remuneration will be payable but you will be credited (if you want). We don't intend to make any profit from any of the images. But if we do we will share it 50/50 with the originator.
~~~~~~~~~~~~~~~~~~~~~~~~~~
Here is some Drax corporate bollox.
http://www.draxgroup.plc.uk/corporate_responsibility/renewable_energy/
Here is some background on Coal to Biomass conversions.
http://www.biofuelwatch.org.uk/uk-campaign/coal-biomass-conversions/
Here are some images to get you going.
We apologise for the extreme boringness of the Drax logo.
Here are some sources of pictures of Drax power station (google produces oodles)
http://www.vegacontrols.co.uk/images/upload/Drax_Power_station.jpg
http://newint.org/blog/editors/2009/07/03/3635530311_046554cefb.jpg
http://cdn.c.photoshelter.com/img-get/I0000frvFwuNoWnc/s/750/600/Drax-Power-Station-1.jpg
http://i.telegraph.co.uk/multimedia/archive/01111/Drax-Power-Station_1111215c.jpg
http://www.freefoto.com/images/908/27/908_27_2771—Drax-Power-Station_web.jpg
Here are some pictures of forest devastation caused by biomass harvesting.
http://www.flickr.com/photos/dogwoodalliance/sets/72157624033774206/